Here is a great new free blogger event. This one is for a huge stash of cloth diapers.
We're Parents!?
is hosting an amazing event to get you started with everything you need to start a fluff stash or grow your stash for the New Year. The event will run from December 1st - 22nd and showcase some amazing companies, including some great WAHMs (work at home moms).
Some of the amazing sponsors already commited are: HipKiddo, Timbuttoos, Scarlet's Naturals, Glow Bugs, Bundles and Buzz, LooHoo Dryer Balls, TenderTushies, and Rockin' Green. More being added daily!
If you would like to participate in this event, please Sign up
here
. All giveaways will be open to the United States and many will be open to both Canada and the United States. You have the option to participate or opt out of any giveaway, but it is our goal for you to participate in every one of them. You will get one Facebook or Twitter link for FREE, as long as you post the anouncement post and agree to post when the event goes live and promote it. If you would like additional links, they will be $1 each.
Cloth diapers giveaways generally get a great turn out, so I expect this event to be pretty big!
If you have a blog/website and would like to post the button, but not participate as a blogger please grab the button code below: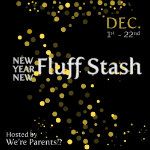 <div align="center"><a href="http://wereparentsnj.blogspot.com/search/label/New%20Year%20New%20Fluff%20Stash%20Giveaway%20Event?max-results=100" title="We're Parents!?"><img src="http://i1152.photobucket.com/albums/p481/wereparents/FluffStashBanner1_zps70aadbf2.jpg" alt="We're Parents!?" style="border:none;" /></a></div>