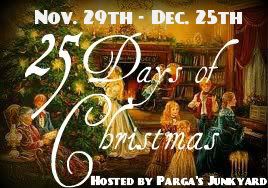 Welcome to the 25 Days of Christmas Blogshare. Every day from November 29th through December 25, there will be a different holiday themed blog post and a new giveaway hosted by one of the great bloggers working hard to bring you this event.
So, 27 days--that means 27 chances for you to win an awesome prizes. Prizes range from books to edibles to self-pampering goodies. You'll just have to check back each day for the post/giveaway of the day. ;-)
Today's post and giveaway is by SnifferWalk. Here is a sample of what is to come:
November 30th
Now that Thanksgiving has passed, Christmas seems right around the corner!! Well, today's featured post and giveaway is being held at
SnifferWalk
. The featured giveaway is a fabulous book about
celebrating life so that we can live it day by day, and truly savor each experience while exploring all of the subtleties of love and happiness. We also have a special featured post to help you find that special Christmas-themed book to read for a brief escape from all the stress. Who doesn't need a special lift for themselves at this crazy busy time of year?
Alyson has put together a terrific list of some of the best Romance, Paranormal and Fantasy books that are Christmas themed. The image pictured above is just a glimpse of the great books she has dug up!
To check out the whole post and enter today's fun-filled giveaway,
go here
!