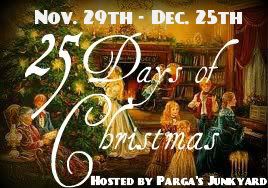 Welcome to the 25 Days of Christmas Blogshare. Every day from November 29th through December 25, there will be a different holiday themed blog post and a new giveaway hosted by one of the great bloggers working hard to bring you this event.
So, 27 days--that means 27 chances for you to win an awesome prizes. Prizes range from books to edibles to self-pampering goodies. You'll just have to check back each day for the post/giveaway of the day. ;-)
Today's post is from Tots and Me, and here is a sample of what is to come:
Blog share Post of the Day - Dec. 9th
CHRISTMAS IS AROUND THE CORNER AND THAT MEANS LOTS OF DELICIOUS FOOD. I REMEMBER WAKING UP ON CHRISTMAS MORNING TO MY MOM AND OLDER SISTERS IN THE KITCHEN STARTING OUR FEAST. THE COUNTERS WERE FULL OF EVERY APPLIANCE IMAGINABLE. I COULD NEVER FIGURE OUT EXACTLY WHAT THE NEED WAS FOR ALL OF THESE MACHINES BUT THEY HELPED TO CREATE THIS FABULOUS FEAST. THE ONE MACHINE THAT CAUGHT MY ATTENTION MOST WAS THIS PROCESSOR. IT WAS AMAZING TO WATCH THIS MACHINE TAKE ON ALL SORTS OF TASK FROM CHOPPING TO MINCING. I LOOK FOOD, AND WHAT BETTER GIFT TO GIVE THAN AN APPLIANCE TO HELP CREATE ALL KINDS OF YUMMY DISHES. ENTER HERE FOR YOUR CHANCE TO WIN A BLACK AND DECKER FOOD PROCESSOR TO HELP MAKE YOUR CHRISTMAS FEAST. BUT DON'T WORRY THERE ARE MANY GIFTS THAT WILL COME YOUR WAY AS WE HAVE A TOTAL OF 25 DAYS OF CHRISTMAS WITH EACH DAY BRINGING A NEW PRIZE FOR YOU TO WIN AND ENJOY.