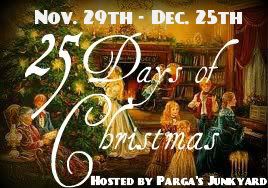 Welcome to the 25 Days of Christmas Blogshare. Every day from November 29th through December 25, there will be a different holiday themed blog post and a new giveaway hosted by one of the great bloggers working hard to bring you this event.
So, 27 days--that means 27 chances for you to win an awesome prizes. Prizes range from books to edibles to self-pampering goodies. You'll just have to check back each day for the post/giveaway of the day. ;-)
Today's post is from Dixieland Mom, and here is a sample of what is to come:
December 10th, 2012
During the Christmas holidays, I make a ton of candy! My all time favorite is for Pecan Brittle. I love the rich buttery flavor of Pecan Brittle and I'll be sharing my recipe for this brittle during the 25 Days of Christmas Event! So come over and visit me on December 10th and I'll be sharing this awesome recipe!
We will be giving away a Soylicious Melter and 2 Melter Gems of your choice! To see all the choices you will have, visit Soylicious! Each package of melter gems contains a ring worth anywhere from $10-$1000! And One Candle of your choice! ARV-$86
We have a fantastic range of scents to choose from and a huge variety of melters! Wouldn't someone on your gift list LOVE these for Christmas?
Merry Christmas!