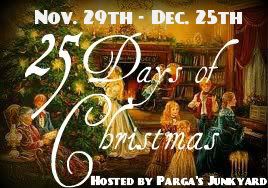 Welcome to the 25 Days of Christmas Blogshare. Every day from November 29th through December 25, there will be a different holiday themed blog post and a new giveaway hosted by one of the great bloggers working hard to bring you this event.
So, 27 days--that means 27 chances for you to win an awesome prizes. Prizes range from books to edibles to self-pampering goodies. You'll just have to check back each day for the post/giveaway of the day. ;-)
Today's post and giveaway is by Couponism. Here is a sample of what is to come:
I am privileged to be hosting Day 6 of the 25 Days of Christmas!
Many thanks to all the wonderful blogger friends that are sharing these Days of Christmas!
I have chosen to share one of my favorite Christmas songs with you. Please be sure to read my
full post
,
and then enter to win an Anniversary Rose Gold Slinky and an Our America Game.
Feel free to leave a comment with your favorite Christmas song!