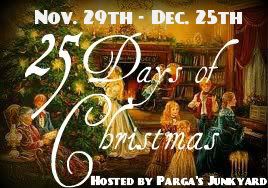 Welcome to the 25 Days of Christmas Blogshare. Every day from November 29th through December 25, there will be a different holiday themed blog post and a new giveaway hosted by one of the great bloggers working hard to bring you this event.
So, 27 days--that means 27 chances for you to win an awesome prizes. Prizes range from books to edibles to self-pampering goodies. You'll just have to check back each day for the post/giveaway of the day. ;-)
Today's post and giveaway is by Dani Sue Dreams. Here is a sample of what is to come:
Traditions evoke feelings of nostalgia. Whenever I think of Christmas, I think of all the traditions in our family...I also remember all the years past with my sisters, parents, grandparents, aunts, uncles, cousins, nieces, nephews...and now I'll be adding my daughter to these memories. I'd like to share with you some of our family traditions...even a few new ones. Some are funny, some taste delicious, some are boring....but what they all have in common is that they bring us together as a family and feel us with warmth when we can't be together.
Link to complete post here.