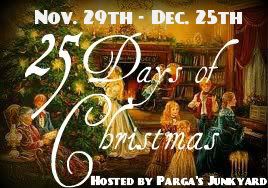 Welcome to the 25 Days of Christmas Blogshare. Every day from November 29th through December 25, there will be a different holiday themed blog post and a new giveaway hosted by one of the great bloggers working hard to bring you this event.
So, 27 days--that means 27 chances for you to win an awesome prizes. Prizes range from books to edibles to self-pampering goodies. You'll just have to check back each day for the post/giveaway of the day. ;-)
Today's post is from Mama Papa Barn, and here is a sample of what is to come:
Post of the Day - Dec. 14th
Have you ever thought about how other cultures celebrate the holiday season? Are you a multi-cultural family who observes different traditions? Well, you are about to find out about three uniquely Swedish traditions, all starting with the letter 'L'! Get the lovely details here!