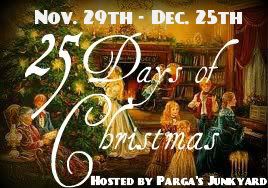 Welcome to the 25 Days of Christmas Blogshare. Every day from November 29th through December 25, there will be a different holiday themed blog post and a new giveaway hosted by one of the great bloggers working hard to bring you this event.
So, 27 days--that means 27 chances for you to win an awesome prizes. Prizes range from books to edibles to self-pampering goodies. You'll just have to check back each day for the post/giveaway of the day. ;-)
Today's post and giveaway is by Operation $40k. Here is a sample of what is to come:
Do you like to give the kids new jammies every year so those Christmas morning photos look awesome? (OK, not so hard to coordinate when you only have one kiddo like we do) This is a fun way to make it a tradition to get new jammies every year, on Christmas Eve!

Read all about the "Pajama Elves" today and make sure to enter the giveaway.
See it HERE.